Nyt MacBook batteri? Det klarer vi indenfor 30 minutter!
Du bruger din MacBook dagligt, og er begyndt med at opdage, at den faktisk taber strøm alt for hurtigt. En MacBook koster som regel en stor sum penge, og derfor synes du, at det ikke kan være bekendt, at den kun kan holde i en time. Stort set i 90% af tilfældene, skyldes dette dit MacBook batteri. Du kan dog forsøge et par ting inden, så du kan være 100% sikker på, at du har forsøgt alt.
Skån dit MacBook batteri – Opsæt Energibesparelse.
Når man taler om strømforbruget på et MacBook batteri, er skærmen den største synder. En populær ting, som man kan foretage sig, er at opsætte energibesparelsen på din MacBook.
For at finde frem til løsningen, skal du åbne ''Systemindstillinger'' og vælge ''Batteri''. Her skal du bl.a. sætte flueben under ''funktion til automatisk grafikskift'', så vil din MacBook automatisk vælge den bedste grafikfunktion til den givne situation.
En anden ting, som du skal have sat flueben ved, er ''Energibesparende funktion'', hvor din MacBook automatisk reducerer energiforbruget og formindsker støjen ved brug.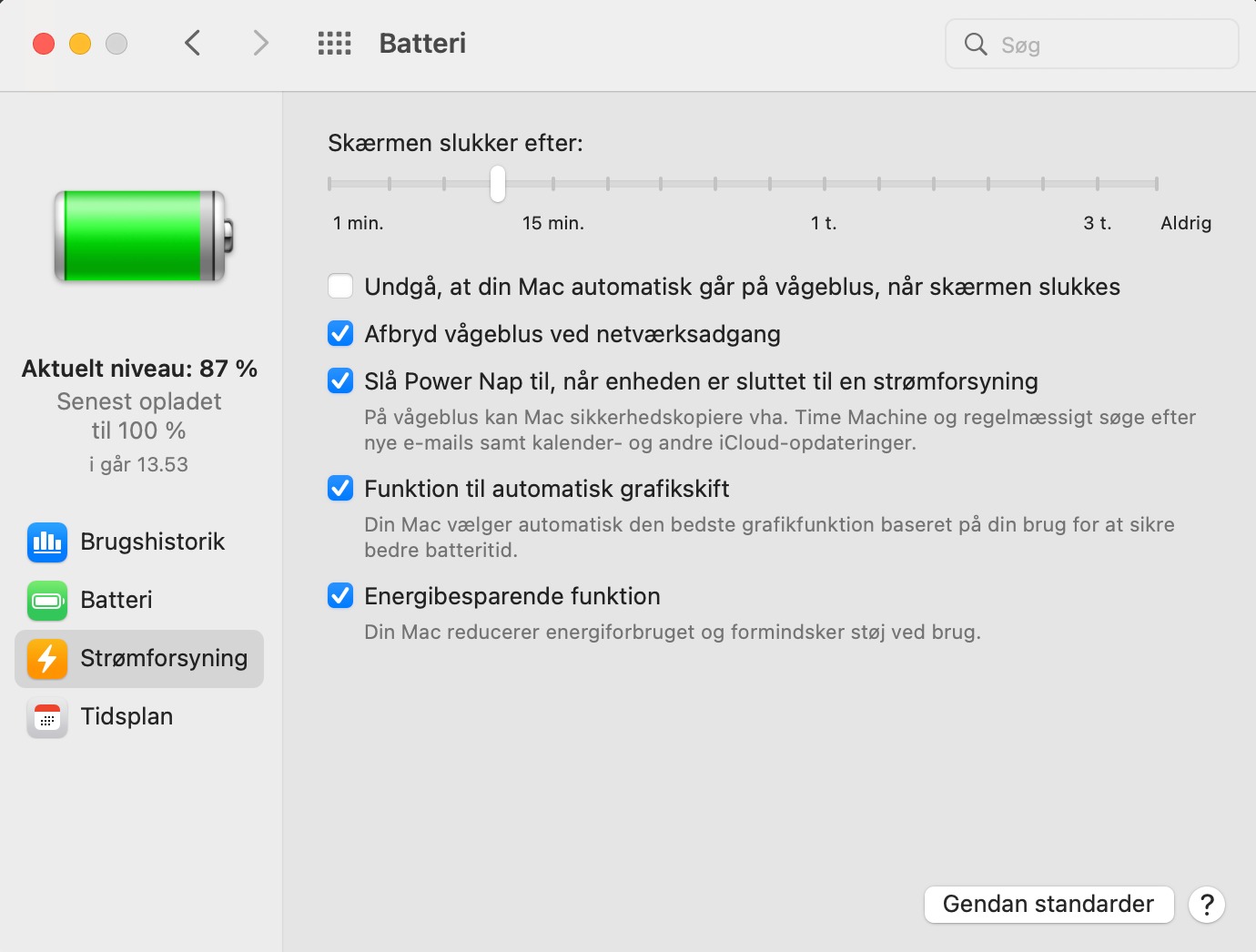 Skift dine skærmindstillinger, og sikre længere levetid på dit MacBook batteri
Som tidligere nævnt, så er skærmen den store synder, når det kommer til strømforbruget på din MacBook. Der er nemlig konstant lys i din skærm, når du benytter din MacBook.
Du kan dog foretage et par justeringer, for at gøre denne mere strømvenlig.
Åbn igen ''Systemindstillinger'' og vælg ''Skærm''. Under denne side, vil du have en justeringsbar, hvor du kan justere styrken på din skærms lysstyrke.
Derudover, kan du slå automatisk justering af lysstyrken fra, da denne heller ikke gavner batteriets levetid.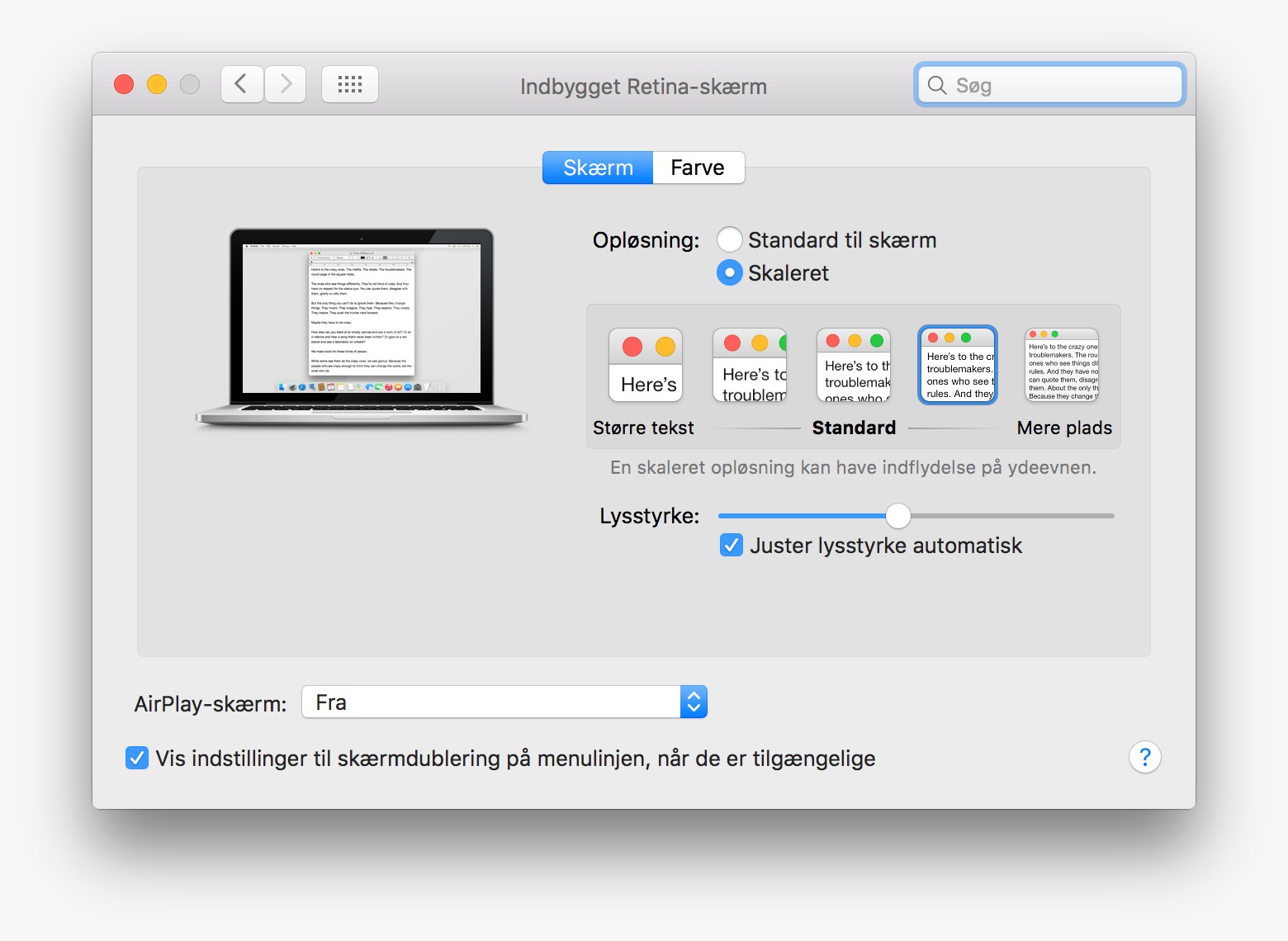 Sluk lyset på dit tastatur
Lyset på dit Tastatur er oftest en af de mest overvurderet funktioner. I langt størstedelen af tiden, har du faktisk slet ikke behov for det. Denne faktor er faktisk også afgørende for batteriets levetid, da denne også belaster batteriet. Derfor anbefaler vi, at du har den helt slukket, medmindre der er behov for lyset.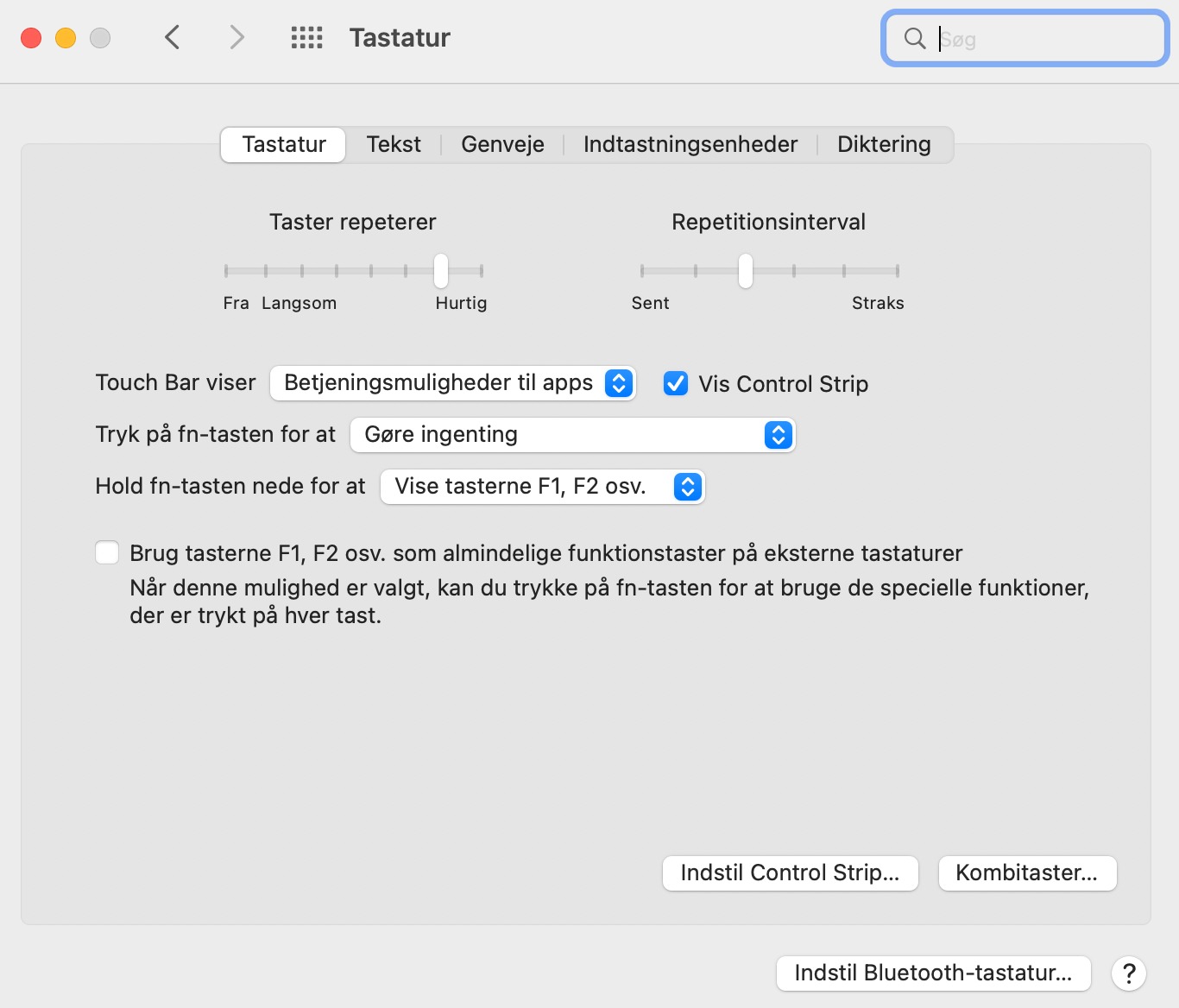 Sluk Bluetooth og evt. Wifi
Både din Bluetooth og dit Wifi bruger en del strøm, da de konstant arbejder på at opfange nye netværk eller enheder. Derfor anbefaler vi, at du slukker begge, hvis du ikke bruger dem.
Desuden anbefaler vi, at du frakobler alle eksterne enheder, der kan være tilsluttet til din MacBook. Et typisk eksempel er en ekstern harddisk. Den suger konstant strømmen fra dit MacBook batteri, da den skal bruge strømmen til at holde sig i gang.
Løber dit MacBook batteri fortsat hurtigt tør?
Så skal du få skiftet batteriet. Et batteri skifte er den mest simple reparation, som der kan foretages på din MacBook. Desuden er det også en af de lidt ''billigere'' reparationer på en MacBook. Derfor, er det faktisk slet ikke så tosset at få batteriet udskiftet.
Vi skifter langt de fleste batterier på blot 30 minutter. Du kan se prisen på et batteri skifte på din MacBook model her.
Følg med på vores Instagram  og Facebook , så går du ikke glip af vores nyheder, tilbud og konkurrencer.